Experience the power of "Neuroscience for Designing Green Spaces: Contemplative Landscapes" - a revolutionary book by Dr. Agnieszka Olszewska-Guizzo. This comprehensive guide was released on May 30, 2023. It revolutionizes landscape design through an innovative approach rooted in neuroscience.
Unveiling Contemplative Landscape Design
Delve into the concept of Contemplative Landscape Design, meticulously crafted over a decade of research. Driven by neuroscience principles, this book serves as a go-to resource for landscape architects and architects seeking to effortlessly integrate mental health and well-being into their practice.
This is the first time where I put together the knowldege acumulated thoughout the years.  This book contains all the nuances about design for mental health and well-being. So that landscape architects and architects can easily access and use for their practice.  Before I published only peer-reviewed articles focused mostly on the mental health implications and the performed neuroscience experinents. But I am a landscape architect first, so I come back to my original field with and I hope it will be a useful tool for anyone interested in designing or benefitting from contact with natural landscapes! - says the author.
Accessing the Book
Discover "Neuroscience for Designing Green Spaces: Contemplative Landscapes" available in paperback, hardcover, and e-book formats. You can easily purchase your copy through the Taylor & Francis website or Amazon, ensuring convenient access to this groundbreaking publication.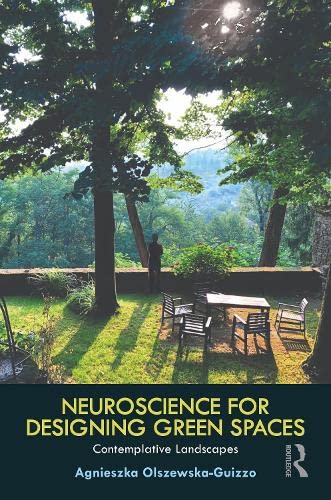 ABSTRACT
Urban parks and gardens are where people go to reconnect with nature and destress. But do they all provide the same benefits or are some better than others? What specific attributes set some green spaces apart? Can we objectively measure their impact on mental health and well-being? If so, how do we use this evidence to guide the design of mentally healthy cities?
The Contemplative Landscape Model unveils the path to answer these questions. Rooted in landscape architecture and neuroscience, this innovative concept is described for the first time in an extended format, offering a deep dive into contemplative design and the science behind it. In the face of the global mental health crisis, and increasing disconnection from nature, design strategies for creating healthier urban environments are what our cities so sorely need.
This book delves into the neuroscience behind contemplative landscapes, their key spatial characteristics, and practical applications of the Contemplative Landscape Model through case studies from around the world. Landscape architects, urban planners, students, land managers, and anyone interested in unlocking the healing power of landscapes will find inspiration here.
"Neuroscience for Designing Green Spaces: Contemplative Landscapes" - a revolutionary book