Landscape Certification
An ongoing ambition at NeuroLandscape is to run the evaluation of public and private green spaces in order to measure their capacity to induce in the visitors the pattern of brain activity associated with improved mental health, well-being, and stress reduction.
Our CLASS tool is able to score digital landscape views (photos), but not entire three-dimensional space. To improve upon its capacities, we have developed a service for measuring the overall contemplative score of a complete place, and with the data acquired, our constantly growing database is updated.
We issue certificates for any interested party, which can be used to raise public awareness or for marketing purposes. We are providing the "Certify your Space" opportunity for both public and private bodies in charge of green spaces, which may include:
- Urban parks and gardens
- Elements of urban green infrastructure
- Waterways, shores and beaches
- Hospital gardens
- Rehabilitation retreats
- Elderly houses
- Alzheimer Institutes
- Kindergartens and school gardens
- University Campuses
- Golf courses
- Tourist resorts and areas around the hotels
- Mindfulness retreats
- Corporate landscapes attached to working space
- Library yards
- Private gardens
…..and many others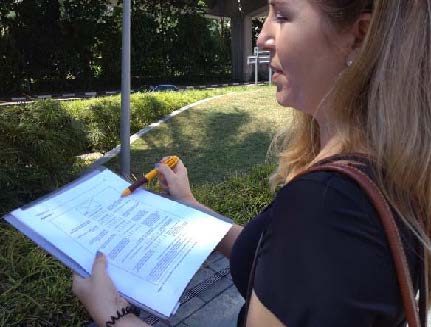 1.  Our experts visit the landscape in question and choose the most significant views of the park based on the developed methodology. The number of views depends on the size of the space to be evaluated.
2. They evaluate the landscapes manually, using the Contemplative Landscape Model. Details of the development of this model have been described in the paper titled "What makes a landscape contemplative?"
3. Simultaneously, the photographic data collected onsite is uploaded to the CLASS system and an instant scoring is obtained.
4. Both manually acquired and CLASS scores are utilized in order to compute the final total score.
What we deliver:
- a Contemplative Landscape Certificate, with scoring and classification of the space.
- a detailed Contemplative Landscape Report (including: overview and analyses of selected landscape views, partial and total scores from experts and from CLASS, additional observations with analysis of opportunities and limitations in the space.
If you're interested, please contact us by filling out the form here. We will get back to you and tailor the service to your exact needs.
Neuroscience Experiments
One of the main goals of NeuroLandscape is to grow the body of knowledge and awareness about the healing and restorative effect of being immersed in natural or virtual environments, and effects of the built elements on our brain.
We are continuously running laboratory and on-site experiments that bring us closer to understanding just how the human brain responds to different environmental stimuli, especially those, that we can experience in cities.
The state of the art in the area of the evidence-based landscape design is still in its infancy, existing evidence are based on relatively small sample sizes and modest experimental techniques.
Together with our supporters and donors, we want to change this status quo through providing the rigorous experimental design, with reliable number of participants and using the most recent clinical equipment.
We are open to adjusting the experimental design for exact needs of the interested parties, for example engaging participants diagnosed with a specific disorder, in a specific age group, or measuring the effect of a specific landscape (real or virtual) on human brain.
We are also interested in longitudinal studies based on application of non-pharmacological interventions.
Our equipment:
We are constantly growing our lab inventory with the neuroscience equipment as well as the stimulation display equipment.  We have been working with:
Enobio, by Neuroelectrocs
eeggo sport, by ANT
NIRSport (LLC NIRx Medical Technologies)
2D / 3D camcorder (HDR TR80 by Sony)
3D Projector, and displaying screen
3D shutter glasses system (by Nvidia)
What we offer
We offer a complex approach to the research problems. Besides the knowledge about the possible effects of the landscape itself, we offer publishing the outcomes of an experiment in a form of a case-study in a peer-reviewed journal. Also, additional publication possibilities may be discussed and considered. All our research attempts are strictly subject to ethical evaluation, and run according to experimental protocols.
The procedure
If you have an idea for a study using the neuroscience solutions, please contact us by filling the form below. As we are a non-profit organization linked with academia, we first need to review the funding and grant possibilities. All ideas and funding opportunities will be greatly appreciated in the process.
Landscape Design Consulting
The team of landscape architecture consultants in NeuroLandscape  work closely with project teams on designs of private and public, small and large scale proposals in order to boost the capacity of the space to induce the mental health outcomes of people who will visit of live there.   Our philosophy is to sensitively integrate scientific findings in the area of evidence-based design, cultural and ecological site factors and client's demands.
The  design and pre-construction stage is a crutial moment in the development process, when we ought to address the mental health of people who will live in that space for years to come. Let's work on that together!