Design Well, Live Healthy
Being around trees, shrubs and other plants improves people's mental health and give us more positive outlook onto our lives. Spending time outside every day, decreases the risk of being depressed or stressed, and thus burden on our mental health is greatly reduced. The power of plants for our physical and mental wellbeing is currently one of main topic in social media and many events related to the built environment industry which also affects current trends in landscape architecture and garden design.
With health and wellbeing now so high profile, it looks like there has never been a better time to concentrate on the role gardens should play in promoting it. One of the best example is the 2018 RHS Chelsea Flower Show, the world's most famous  gardens show, leading celebration of horticultural excellence and innovation, where great potential of plants to enhance mood and aid recovery was a main theme this year.
One of the main gardens RHS Feel Good Garden was designed as contemporary, therapeutic space, where people can relax, forget about daily, stressful life and benefit by beauty of surrounding green space. The designer presents here very elegant balance of beautiful, restrained planting with interesting, modern stonework which puts space users at complete ease. Relaxing oasis with a sense of tranquility is what I thought and felt when entered Feel Good Garden in a sunny May afternoon.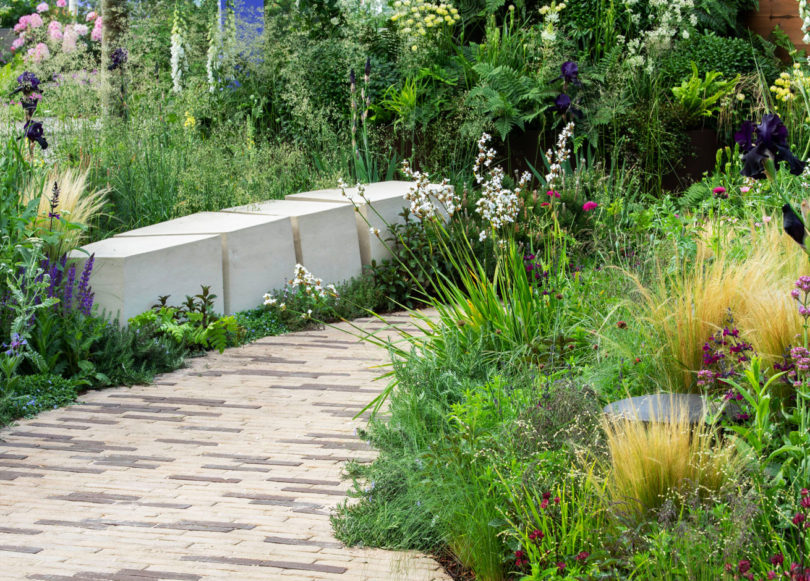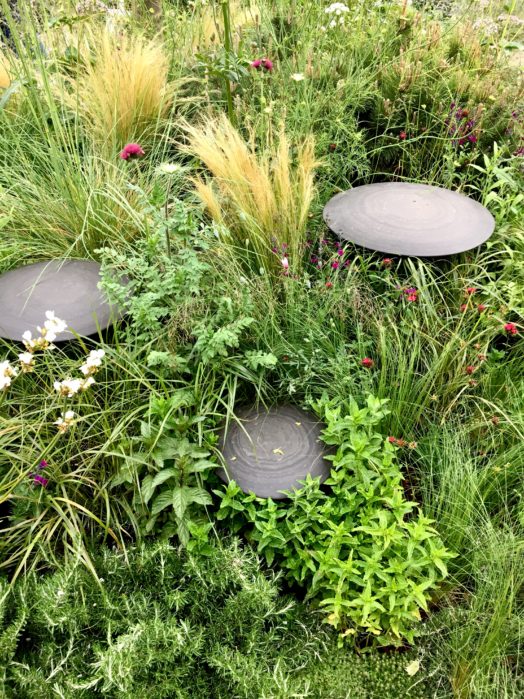 The richness of plants, its colours, shapes favors collecting positive energy and facing our life with more optimism and power. There is no straight lines and geometry what can make people feel more stressed and forced through the garden. As more wild-looking green space is as better for mental health, that is why planting here has more organic and natural form. A meandering path built with different materials should encourage us to stop focusing on the mind and focus on where we are going. Visitors feel free and welcome to walking around, calmly, at their own pace. Additional points appearing along the way inspire to linger and admire each detail of this lovely space.
At any time we can rest by having a sit on one of stone benches in arch and oval shapes and through specially created gaps in planting observe other parts of the garden and its users. Designer gave a great importance to herbs stimulating our senses as well as created the opportunity to listen to the soothing sound of ornamental grasses. Iris 'Black Tie Affair' with its very deep purple, almost black flowers attracts a great attention, forces you to stop, look and reflect.
Design also includes trees such as very tall Cercis siliquastrum and Gleditsia triacanthos which can be helpful for people who have problems with anxiety, depression, lack of self-confidence or just too much stress. They tend to seek for security under a "roof" of the tree canopy – that kind of security that brings the possibility to observe the rest of garden at the same time, without blocking the views. The layout of the garden encourage users to interact and engage with the plants and other people in a perfect way.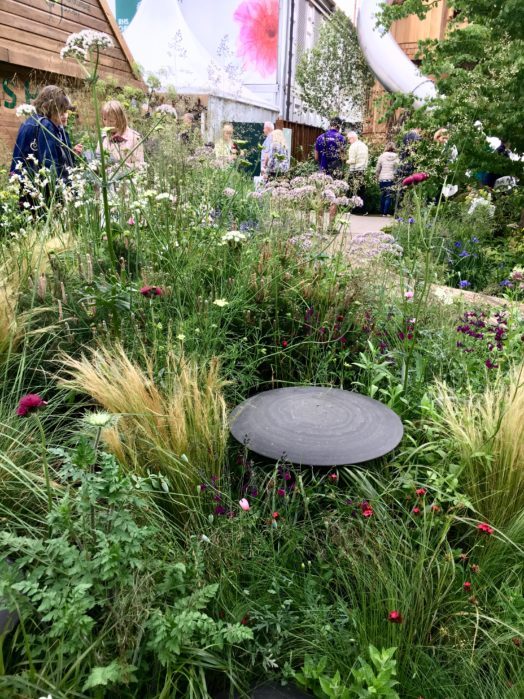 Noteworthy, I find it a wonderful idea to relocate this garden after the show, to the 
Camden and Islington NHS Foundation Trust
with the aim of providing a place where patients as well as staff can garden, relax and socialize while being close to nature!
Gardening and spending active time in nature will definitely give them sense of purpose but also feeling of responsibility and achievement.
Having something to care for, such as plants, gives you a sense of purpose, a feeling that's so important for those struggling with mental health issues, says the designer – Matt Keightley. 
President and Co-founder of NeuroLandscape. She is a Ph.D. in landscape architecture and urban ecology, who has explored the relationship between the different features of the natural and built environment's influence on human health and wellbeing. In her research she has successfully incorporated neuroscience tools to investigate the changes in brainwave oscillation in participants exposed to different types of designed landscape. She has introduced and operationalized the term contemplative landscape and proposed a quantitative assessment scale to distinguish landscape views according to which are most beneficial for mental health in terms of passive exposure. She has developed several research projects worldwide and established international research networks across multiple universities. She is an originator of the idea for the VR_HEATHER project, which builds upon her research and is also in line with the statutory goals of NeuroLandscape.